Private macros Phoenix for Counter-Strike: Global Offensive
Previously, the Phoenix Hack team specialized only in private cheats for CS:GO, but now we also have macros in our assortment. From 2017 to 2022, players could play with almost any cheat with impunity, detections were extremely rare, until in 2022 Valve and VAC got down to business again. Now most cheats make your account's trust factor red, which is why you will only come across cheaters and toxics in the team. Based on the circumstances, we decided to make the most secure software guaranteed. Macros are not cheats, no files are embedded on your PC and in the game process, such a product is almost impossible to detect. The trust factor of your account will also remain green, no matter how much you play with the phoenix csgo macro. Of course, macros do not provide such a huge advantage as cheats, but they are much safer and will remain in the Undetected status almost forever. Therefore, if you were looking for reliable software for a game based on it, then we advise you to pay attention to our scripts.
Recoil control script for all weapons in the game.
Auto-detect guns in your hands..
Detailed settings for recoil suppression.
Flexible and handy system of binds for activating macros.
Ready-made configs and saving settings in our cloud (Cloud CFG).
The minimum chance to get a ban is safer than any cheat for CS:GO.
Play with Evergreen Trust Factor: The Phoenix script will not make your trust factor red.
Support for all models of computer mice: Bloody, X7, HyperX, Razer, Logitech, Steelseries, etc.
Convenient customization of visual elements in the game (hands, scope and some animations).
INF $
1 day
Well made loader
Latest software version
The cheapest script for cs
Buy
INF $
1 day
Regular anti-recoil updates
Optimal number of days
24/7 support from our staff
Buy
INF $
1 day
The most profitable item to buy
No limits, play as much as you wants
Suitable for playing Matchmaking on the main account
Buy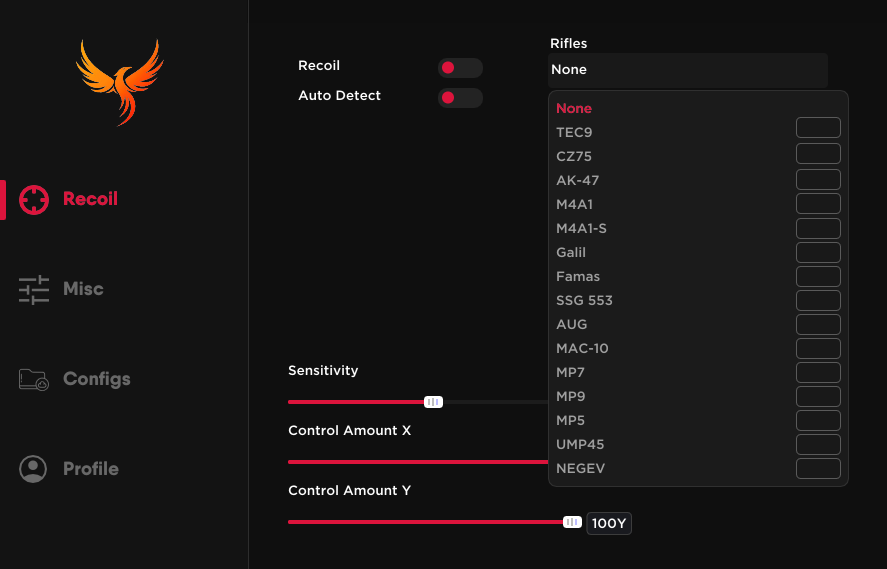 Powerful legit script to control recoil and clip from weapons
The software will help you control shooting on all weapons in csgo: AK47, M4A1 or AUG - you will be able to shoot clearly at one point from everything. Weapons in your hands will be detected automatically, thanks to the AutoDetect feature. Although the macro controls the recoil perfectly, it does it in a smart way, so from the outside it will look like a high recoil suppression skill, and not any cheats or hacks. Everything in the phoenix software is made for the longest and safest game on the main account, and not for smurf rage.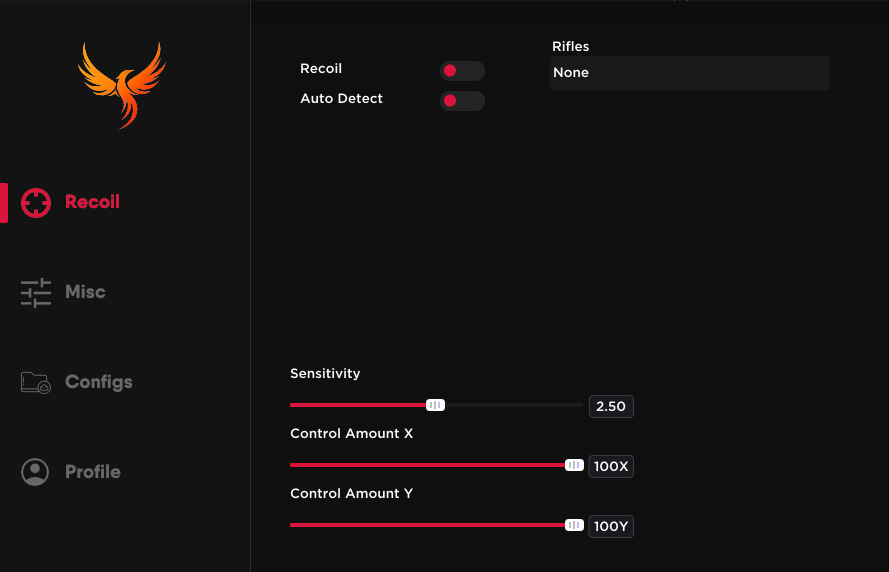 Support for all mouse models
Previously, macros were very inconvenient and often only worked on certain models of computer mice, but we at Phoenix Hack fixed this. Our tool will forever change all your stereotypes about macros, because the program of our production includes a convenient loader, which is easier and more pleasant to use than the loaders of most well-known cheats for cs. There is also an automatic detection of weapons, which minimizes the time spent in the macro menu. Visually, everything is decorated very stylishly and beautifully, our pack of scripts will delight your eyes. And most importantly, our product works with all mouse models, which is very convenient, because before all macros had such a limitation (They worked only on certain models/brands).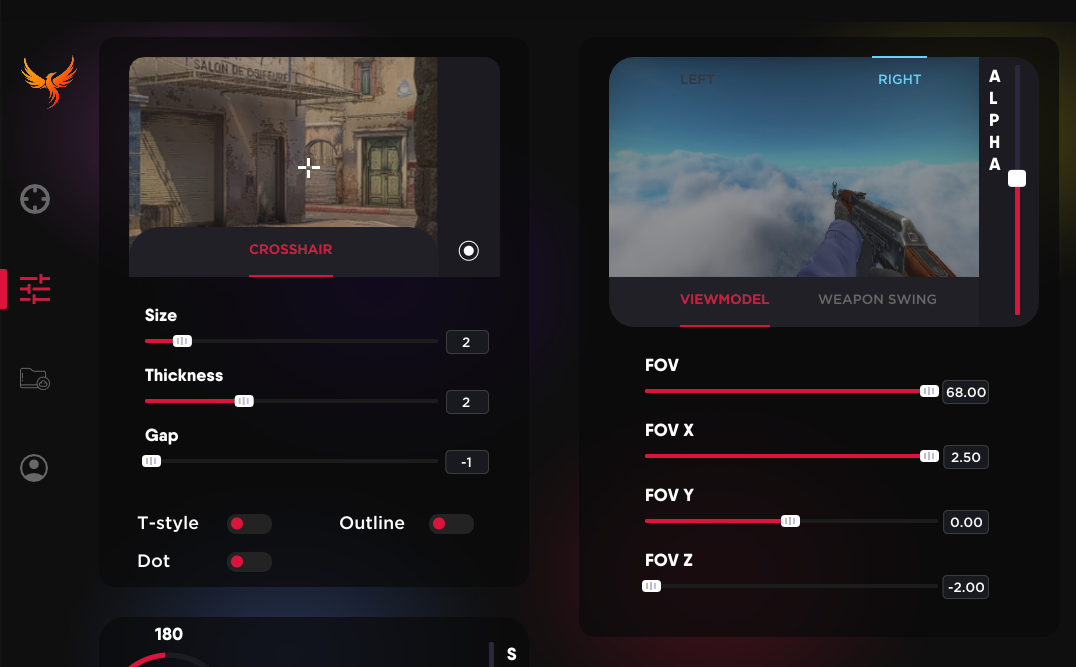 Additional extra features
In addition to the main feature of macros - no recoil, this product also has other useful features. Firstly, a feature that allows you to sharply turn 180 degrees by pressing a key (or another number of degrees that you specify in the settings). Secondly, the possibilities for visual settings in the game. Using the software, you can change the settings of the hands, some weapon animations, and more.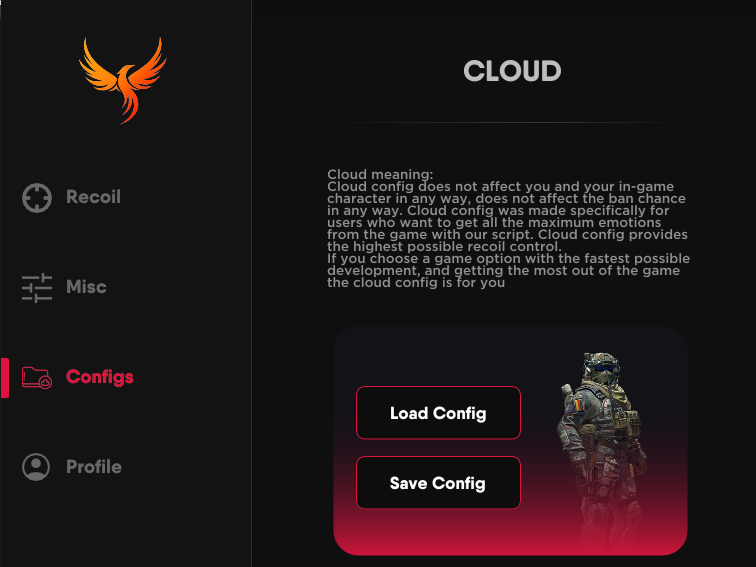 Cloud Settings(Cloud CFG)
Users are offered several ready-made sets of settings: Legit and Rage. All configs are saved in our database, nothing is saved on your PC. Considering that the macro is also not embedded into the game and does not interact with CSGO files, this additionally minimizes the already tiny chance of detecting scripts by anti-cheat.